Amoena Breast Form - Energy Light - New Technology!

Innovative features for maximum comfort - introducing Energy from Amoena
A line of revolutionary breast forms that let the body breathe freely. Whether exercising, undergoing treatment or going through menopause, the patented, three-dimensional technology provides excellent ventilation and comfort
New Triangle Shape - Model 342 - Lightweight Silicone with Comfort+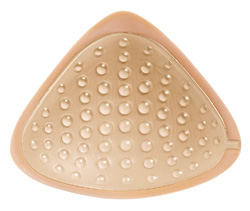 Benefits
Reduces perspiration and increases evaporation rate during exercise, medical treatment and menopausal hot flashes.
Reduces overheating and perspiration behind the breast form to maintain a constant, comfortable temperature all day.
May reduce shoulder and neck tension as well as back problems. Ideal for women with lymphedema, osteoporosis and arthritis.
Universal shapes 2U and 3U offering more fitting options.
Model 341  is a 3U shape.  This shape can be rotated with the side extension at the top for a more average fit or with the extension in the center allowing for you to wear a bra with less coverage.
Model 340 does not have the extension 
The world's only temperature-equalizing breast form with air ventilation for a fresh feeling
The three-dimensional pearl surface on the back of the breast form maximizes air flow. The patent pending 3-D construction also minimizes the probability of perspiration by increasing the evaporation rate — especially beneficial during exercise, medical treatment or menopausal hot flashes. Amoena Energy breast forms create an ideal body climate that is pleasantly dry all day, every day.
Enjoy the comfort.
With the unique Comfort+ material, body heat is absorbed or released to maintain the optimal temperature. The Amoena Energy breast form absorbs heat generated from the chest wall and returns the warmth when needed, maintaining a perfect and constant balance with the body for maximum comfort. Ideal for women who are hot natured, exercise regularly and have hot flashes due to menopause or hormone therapy. Amoena Energy breast forms contain 30% more Comfort+ than Amoena Contact, Natura and Individual with Comfort+.
(close this)
PRICE MATCH GUARANTEE
Get the lowest price on 340/341/342 Amoena Breast Form - Energy Light - New Technology! .
We are dedicated to always offering the best service and value to our customers.
We will match the price, at the time of purchase or until 7 days after your purchase
, on a Price Match Guarantee product if you find the same item ( 340/341/342) at a lower price at a Designated Major Online Retailer or at a local retail competitor's store in the US.
Here's how:
If you find a qualifying lower price online,
send us an eMail
with the products you are buying and the web site and the URL of the product with the lower price. On qualifying products, we will then verify the current price to complete the price match.
Exclusions apply including, but not limited to close-outs, special daily or hourly sales, limited quantity sales, flash sales and items for sale Thanksgiving Day through the Monday after Thanksgiving.
Please view the full details here.