Amoena Mastectomy Bra Nancy Wire-Free Front Closure 44739
This Amoena Nancy bra is Amoena's newest Wire Free Front Closure bra that comes with adjustable elastic.  The straps increase in width to maintain support in larger sizes.
Breathable COOLMAX® pockets in the cut and sewn cups can hold a breast form or shaper securely in place
Bra Cup Form - (2)Average/(3)Full Fit
Easy-fitting bra with floral lace along the neckline
Redesign of a best-seller, this Nancy style features both front and back closures, ideal for women with limited range-of-motion
Ideal support for fuller figures, up to a G cup
Hook & Eyes FRONT: 4 rows: 32-36 B; 34 C
5 rows: 38-44 B; 36-42 C; 34-40 D; 34 DD
6 rows: 44-50 C; 42-48 D; 36-42 DD; 34-36 DDD; 34 G
7 rows: 52 C; 50-52 D; 44-50 DD; 38-44 DDD; 36-42 G
8 rows: 46-50 DDD; 44-50 G
Hook & Eyes BACK: 2 rows: 32–36 B; 34 C
3 rows: 38–42 B; 36–40 C; 34–38 D; 34-36 DD; 34 DDD
4 rows: 44 B; 42-52 C; 40-52 D; 38-50 DD; 36-46 DDD; 34-50 G
Colors: Light Nude and Dark Grey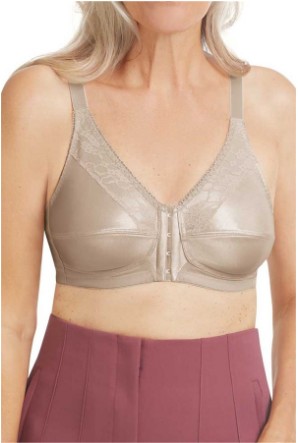 (close this)
PRICE MATCH GUARANTEE
Get the lowest price on Amoena 44739 Amoena Mastectomy Bra Nancy Wire-Free Front Closure 44739.
We are dedicated to always offering the best service and value to our customers.
We will match the price, at the time of purchase or until 7 days after your purchase
, on a Price Match Guarantee product if you find the same item ( Amoena 44739) at a lower price at a Designated Major Online Retailer or at a local retail competitor's store in the US.
Here's how:
If you find a qualifying lower price online,
send us an eMail
with the products you are buying and the web site and the URL of the product with the lower price. On qualifying products, we will then verify the current price to complete the price match.
Exclusions apply including, but not limited to close-outs, special daily or hourly sales, limited quantity sales, flash sales and items for sale Thanksgiving Day through the Monday after Thanksgiving.
Please view the full details here.