Bright Fuscia Pink Fleece Wrap
Bright Fuscia Pink Fleece Wrap comfortably wraps around the shoulders and tucks through a loop creating a draping in front or over the shoulder. Detachable flower pin. Easy access for nurses while still giving the patient dignity.
100% polyester fleece. Hand wash cold, air dry.
The perfect clothing for someone with cancer (they are chemo port accessible) or in a nursing home.
Wrapped in Love is donating 50% of the purchase price of the Bright Fuscia Pink Fleece Wrap to the Breast Cancer Research Foundation. BCRF's mission is to advance the world's most promising research to eradicate breast cancer.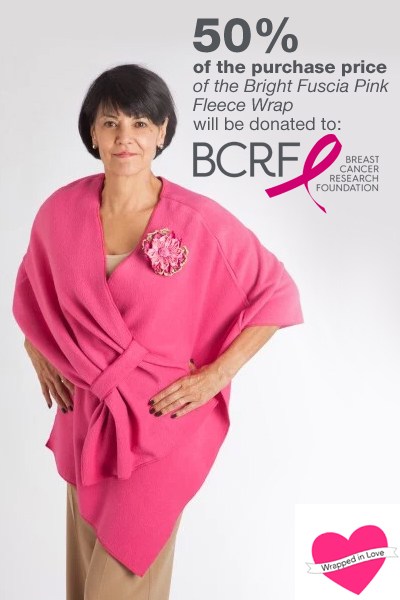 (close this)
PRICE MATCH GUARANTEE
Get the lowest price on WILPF 501 Bright Fuscia Pink Fleece Wrap.
We are dedicated to always offering the best service and value to our customers.
We will match the price, at the time of purchase or until 7 days after your purchase
, on a Price Match Guarantee product if you find the same item ( WILPF 501) at a lower price at a Designated Major Online Retailer or at a local retail competitor's store in the US.
Here's how:
If you find a qualifying lower price online,
send us an eMail
with the products you are buying and the web site and the URL of the product with the lower price. On qualifying products, we will then verify the current price to complete the price match.
Exclusions apply including, but not limited to close-outs, special daily or hourly sales, limited quantity sales, flash sales and items for sale Thanksgiving Day through the Monday after Thanksgiving.
Please view the full details here.