Dawn Post-Mastectomy Camisole Style 901
Post Surgery Dawn Camisole is an after surgery camisole designed to be worn right after breast or chest surgery.
Fine, no-pill combed cotton
No inside seams
Shelf bra
Additional under-bust support
Two Removable Drainage Tube Pouches
Two triangular fiber-filled breast forms
Available in white, black, pink and nude
Easy to slip-on or step into
Latex Free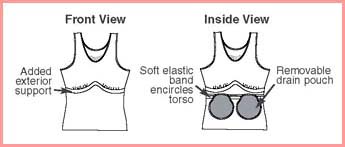 Inside elastic encircles the entire torso allowing
repositioning of the removable drainage tube pouches from front to sides or back according to needs.
The drainage tube pouches can be removed and the camisole can be worn for leisure wear after surgery or during radiation.
(close this)
PRICE MATCH GUARANTEE
Get the lowest price on Wearease 901 Dawn Post-Mastectomy Camisole Style 901.
We are dedicated to always offering the best service and value to our customers.
We will match the price, at the time of purchase or until 7 days after your purchase
, on a Price Match Guarantee product if you find the same item ( Wearease 901) at a lower price at a Designated Major Online Retailer or at a local retail competitor's store in the US.
Here's how:
If you find a qualifying lower price online,
send us an eMail
with the products you are buying and the web site and the URL of the product with the lower price. On qualifying products, we will then verify the current price to complete the price match.
Exclusions apply including, but not limited to close-outs, special daily or hourly sales, limited quantity sales, flash sales and items for sale Thanksgiving Day through the Monday after Thanksgiving.
Please view the full details here.