Nearly Me Body Guard Foam Pressure Padding
SKU:
Nearly Me Body Guard 16-030-07

New BODY GUARD Skin Protection Products for sports medicine.
BODY GUARD Foam Pressure Padding is a closed cell polyethylene foam with an adhesive backing.
Since the foam is closed cell, it will not take on moisture or perspiration which could affect the pressure and friction absorbing properties.
Sheets can be cut to any shape to fit various areas of the body that need padding protection.
Foam has no latex to cause potential allergy problems and sticks easily to skin or orthopedic appliances for additional padding.
Sheets are 3" x 4" and packaged 12 sheets per bag.
Foam is made in the U.S.A. with U.S. materials.
Item: 160-3007 BODY GUARD Foam Pressure Padding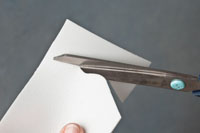 (close this)
PRICE MATCH GUARANTEE
Get the lowest price on Nearly Me Body Guard 16-030-07 Nearly Me Body Guard Foam Pressure Padding.
We are dedicated to always offering the best service and value to our customers.
We will match the price, at the time of purchase or until 7 days after your purchase
, on a Price Match Guarantee product if you find the same item ( Nearly Me Body Guard 16-030-07) at a lower price at a Designated Major Online Retailer or at a local retail competitor's store in the US.
Here's how:
If you find a qualifying lower price online,
send us an eMail
with the products you are buying and the web site and the URL of the product with the lower price. On qualifying products, we will then verify the current price to complete the price match.
Exclusions apply including, but not limited to close-outs, special daily or hourly sales, limited quantity sales, flash sales and items for sale Thanksgiving Day through the Monday after Thanksgiving.
Please view the full details here.