Nearly Me Body Guard Pressure Pad
SKU:
Nearly Me Body Guard 16-000-01

Protective non-sterile disposable gel pads that help reduce pressure, friction and shearing on pressure-prone areas of the body.
BODY GUARD Pressure Pads were created for the home health and medical markets to help reduce pressure around bedsores and other pressure prone areas of the body.
These soft Pads are made of a highly conformable plastisol gel that is economical enough to be disposable.
Available in two thicknesses and a standard 4" x 4" dressing size, each pad adds an extra layer of cushioning to small bony prominences of the body to reduce friction and pressure.
These soft Pads help reduce friction and shear force between the body and hard surfaces to help Prevent skin trauma or can be placed over injured unbroken skin to cushion, comfort and Protect against additional injury.
They work great on heels and ankles to reduce the potential of skin breakdown or can be used with prosthetic devices to help reduce abrasions and blister formation.
Pads are available in single bags of one pad per bag.
They are washable and reusable if so desired and are packaged in resealable foil bags.
Pads are non-sterile and are made in the U.S.A. with U.S. materials.
Size 1: BODY GUARD Pressure Pad – 4"x 4" x 1/8", 1 piece/bag
Size 2: BODY GUARD Pressure Pad – 4"x 4" x 1/2", 1 piece/bag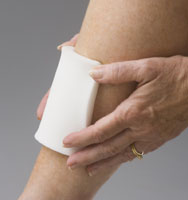 (close this)
PRICE MATCH GUARANTEE
Get the lowest price on Nearly Me Body Guard 16-000-01 Nearly Me Body Guard Pressure Pad.
We are dedicated to always offering the best service and value to our customers.
We will match the price, at the time of purchase or until 7 days after your purchase
, on a Price Match Guarantee product if you find the same item ( Nearly Me Body Guard 16-000-01) at a lower price at a Designated Major Online Retailer or at a local retail competitor's store in the US.
Here's how:
If you find a qualifying lower price online,
send us an eMail
with the products you are buying and the web site and the URL of the product with the lower price. On qualifying products, we will then verify the current price to complete the price match.
Exclusions apply including, but not limited to close-outs, special daily or hourly sales, limited quantity sales, flash sales and items for sale Thanksgiving Day through the Monday after Thanksgiving.
Please view the full details here.